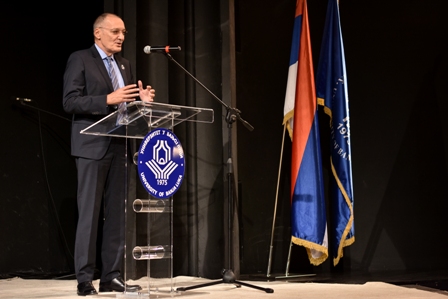 Consul General Vladimir Nikolic received University Charter Award for his outstanding contribution to the development of Banja Luka University and to the development of higher education in 2018. The Charter was handed to the Consul General at the academy on the occasion of the 44th anniversary of Banja Luka University held at the National Theater of Republika Srpska on 7 November.
The event was attended by a member of Bosnia and Herzegovina Presidency Milorad Dodik, Government Ministers of Republika Srpska, Mayor of Banja Luka Igor Radojicic, Banja Luka University Rector Radoslav Gajanin as well as by many educators and officials from public, scientific, political and social life.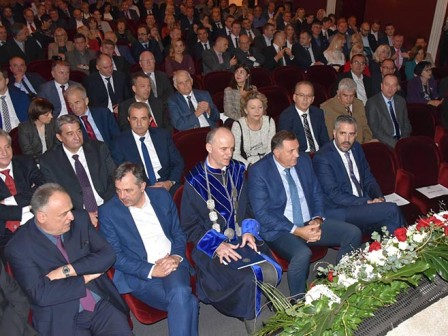 Expressing gratitude for this recognition, Consul General Nikolic emphasized that it was also a recognition to Serbia, since over the past few years when he held the post of Consul General in Republika Srpska, he had never lost sight of the fact that he was representing Serbia in Republika Srpska. He added that on account of love that Srpska had for Serbia he wanted and had to reciprocate in the best and most meaningful way. Nikolic emphasized that he had great respect for education and culture, two major pillars on which the identity of a nation rests, which is why special attention should be devoted to these issues.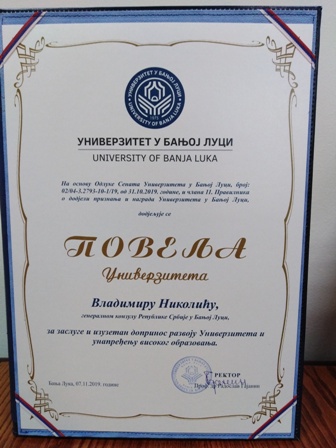 "I have been carefully recording the flow of people, ideas, projects between Serbia and Srpska, those forces strengthening the spiritual identity of our people. Without that, a diplomat's job would not amount to much. We are here first of all to connect people, consolidate ties and support those forces that seek to strengthen spiritual and intellectual, educational and creative environment which will increase our awareness that we have been recognized and identified as part of the world community of peoples. Art, culture and education exemplify best that we are part of these flows. I thank you for this award both on behalf of the Republic of Serbia and on my own behalf," Consul General Nikolic said in his address.